This week: whatcom Democrats endorsement meeting:

An hour of highlights include:
Rick Larsen, Stoney Bird and Collin Richard Carlson for Congress
Debra Lakenoff, Alex Ramel, and Tom Pasma for 40th LD Representative
Pinky Vargas and Tim Ballew for 42nd LD State Senate
James Erb and Eric Richey for Whatcom County Prosecutor
Wednesday at 5:30 pm
Sunday at 11:00 am
Monday at 1:00 pm
kmre 102.3 fm – Bellingham.
Full audio from the Whatcom Democrats Endorsement Meeting will be up soon.
unscripted, un-timed and uncensored:
in-depth candidate conversations you won't get anywhere else: 
County Prosecutor Candidate Eric Richey
County Prosecutor Candidate James Erb
42nd State Senate Candidate Tim Ballew
42nd State Senate Candidate Pinky Vargas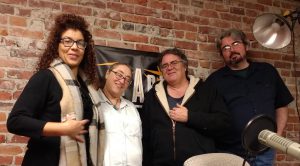 Stay tuned for our return to the new KMRE studios, with a new name and a new look!
 KMRE 102.3 FM Bellingham and kmre.org :
5:30 pm Wednesdays, 11:00 am Sundays and 1 pm Mondays
KAVZ 102.5 FM Deming/Van Zandt: Tuesdays at 6 pm and Thursdays at noon.
Cascadia News Now Promo: